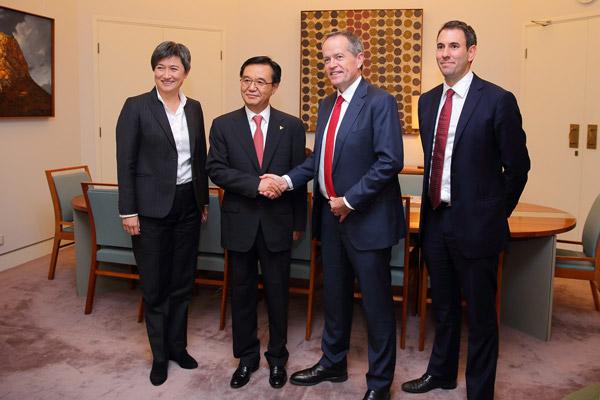 Chinese Minister of Commerce Gao Hucheng met with Australian labor party leader Bill Shorten in Parliament House in Canberra, Australia on the afternoon of June 17.
Gao Hucheng first thanked the labor party for its efforts to step up the China-Australia FTA negotiations and the China-Australia relations. He said the China-Australia FTA was an all-round pact with high-quality and balanced interests. The signing of FTA will inject constant impetus into the economic growth of both countries and exert great importance to the Asia-Pacific economic integration process.
Gao spoke highly of efforts the labor party has made for long to develop its relations with China and hoped the labor party would exert its unique influence and function to help the FTA to pass the Australian parliament and come into effect as soon as possible, and would promote the common development of China and Australia as well as the prosperity of Asia-Pacific region. The Chinese side would like to maintain close communication with the labor party and deepen pragmatic cooperation in various areas.
Gao said the present China-Australia trade and economic cooperation has become a main part of China-Australia bilateral ties and has brought real benefits to people of both countries. Chinese investment in Australia has added up jobs for local people and enhanced its economic growth. The Chinese government will continue to encourage eligible domestic enterprises to invest in Australia while strictly obeying the local laws and regulations
  
Shorten said the labor party hailed the China-Australia FTA, which is conducive to the economic growth of both countries, the increase of jobs and worker pay. The labor party has been supportive of good relations with China, attached importance to China's role as the largest trading partner in promoting Australia's economic growth. The labor party will hold constructive attitude while reviewing the text of China -Australia FTA.
China's ambassador to Australia Ma Chaoxu also attended the meeting.