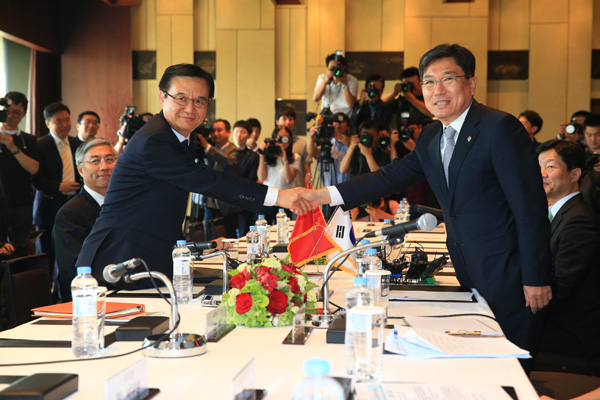 The Chinese Minister of Commerce Gao Hucheng held talks with the Korean Minister of Trade, Industry and Energy Yoon Sang-jick in Seoul Korea on the afternoon of June 1. Both sides exchanged views on signing the China-Korea Free Trade Agreement and further developing and deepening the bilateral trade and economic cooperation.
Gao said that at present the trade and economic cooperation has become the biggest highlight of the development of the bilateral relationship. In 2014, the trade volume between China and Korea reached US$290 billion and the two-way investment accumulated more than US$60 billion, both maintaining a relatively fast growth rate. This is particularly difficult in the trend of slowing growth of global trade. Under the high attention and the personal promotion of the leaders of the two countries, the China-Korea FTA is finally signed today, which has a historical meaning, marking a new breakthrough of the trade and economic relationship of the two countries, and will bring more practical benefits for the peoples and enterprises of China and Korea, further promote the process of regional economic integration of East Asia and Asian-Pacific region and bring new vitality for the development of the world economy.
Yoon Sang-jick said that the official signing of the China-Korea FTA has a milestone meaning. It can be regarded as the second establishment of the economic relationship between China and Korea and its meaning has already exceeded the opening of the products and the service market. This FTA builds an institutional framework of the trade and economic cooperative direction for the two countries from the long term and strategic perspective. He hoped that nextly both sides can work together to promote the validity and the implementation of the agreement as soon as possible to enable the people and enterprises of the two countries to obtain benefits earlier.
Both sides also exchanged views on promoting the construction of the "Belt and Road Initiative", on pushing forward the process of regional economic integration, on building the China-Korea industrial parks, and on strengthening the trade and investment cooperation and the negotiations of regional comprehensive economic partnership.
After the talks, both sides jointly singed the China-Korea Free Trade Agreement and met with journalists from the two countries. The Chinese Ambassador in Korea Qiu Guohong, the Vice-Minister of Commerce Wang Shouwen and the Korean Assistant Minister of Trade, Industry and Energy Woo Tae-hee participated in the talks.