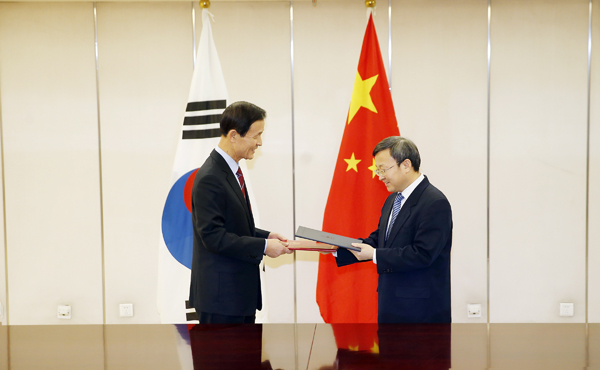 Vice Minister of Commerce Wang Shouwen and South Korean ambassador to China, Kim Jang-soo exchanged diplomatic note in the Ministry of Commerce on the afternoon of December 9. The two sides confirmed that the Free Trade Agreement between the People's Republic of China and the Republic of Korea will take effect officially on December 20, 2015 and reduce the tariff for the first time. The second tariff reduction will be made on January 1, 2016. On the same day, China's ambassador to Australia Ma Zhaoxu and Australia's incoming ambassador to China Jan Adams exchanged diplomatic note on behalf of their own government respectively and confirmed that the Free Trade Agreement between People's Republic of China and Australia will enter into force officially and carry out the first tariff reduction on December 20, 2015, and the second on January 1, 2016. The specific margin of tariff reduction has been released on the website of MOFCOM.
The China-ROK FTA negotiations started in May 2012 and was officially signed on June 1, 2015. The China-Australia FTA negotiations kicked off in April, 2005 and was officially signed on June 17, 2015. Leaders of both sides had paid much attentions to the negotiation process and stepped it up on their own. They had expressed their strong intentions more than once, which played an important role in promoting the negotiations and the FTA to enter into force.
The China-ROK FTA and China-Australia FTA is a great event along with the development of China-ROK and China-Australia trade and economic relations. It will further expand the bilateral trade and two-way investment, improve trade facilitation level, increase the predictability and transparency of two-way investment, promote free flow of goods, capital and personnel between China and ROK, and China and Australia, and create easier, opener and fairer trade and investment environment. The agreement will inject strong vigor into China-ROK, China-Australia bilateral trade and economic cooperation and promote economic growth of all countries. It will serve as a solid basis of common interest to comprehensively upgrade China-ROK strategic cooperation partnership and enrich the contents of China-Australia comprehensive strategic partnership.