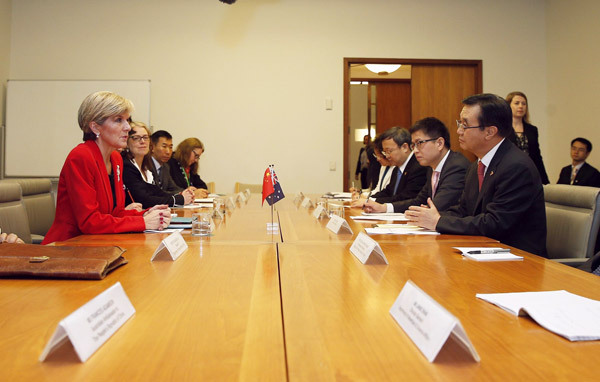 Chinese Minister of Commerce Gao Hucheng met with Australian Foreign Minister Hon Julie Bishop in the Capitol in Canberra, Australia on the morning of June 17. Both sides exchanged views on strengthening the relationship between the two countries and the questions of common interest.
Gao said that in November 2014, President Xi Jinping improved the China-Australia relations to a comprehensive strategic partnership when visiting Australia successfully. Over the past half a year, both sides have positively implemented many consensuses reached by leaders during the two leaders' visits last year and made important progress in many fields. Especially, in the process of promoting the China-Australia free trade area negotiations, the negotiating teams of both sides worked together and finally reached a comprehensive and high-level free trade agreement with balanced interests between the largest developing country in the world and a mature developed country. It is hoped that China and Australia can take the opportunity of the signing of the free trade agreement to promote the China-Australia comprehensive strategic partnership to develop in a profound way and to make contribution to the development, stability and prosperity of the region.
Bishop said that Australia pays attention to the relationship with China and positively promotes the development of the China-Australia comprehensive strategic partnership. Today is an " auspicious day" for the relationship between the two countries. The official signing of the China-Australia free trade agreement opens a new chapter for the relations of the two countries. This high-quality agreement not only increases the economy of the two countries in providing more employment opportunities, but also vigorously promotes the cooperative relations between the two countries. Australia expects that the agreement can come into effect soon.
Chinese Ambassador in Australia Ma Zhaoxu and the Vice-Minister of Commerce Wang Shouwen participated in the meeting.