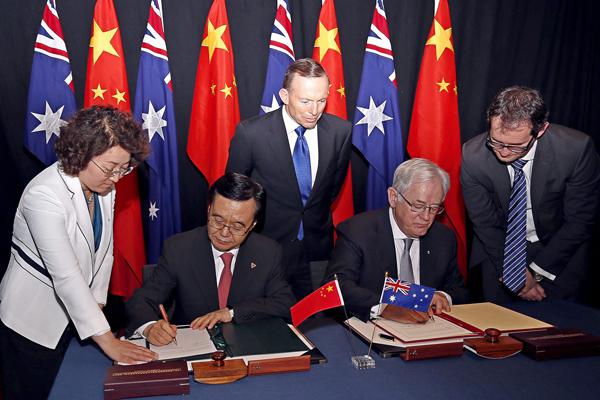 Chinese Minister of Commerce Gao Hucheng and Australian Trade and Investment Minister Andrew Robb signed the China-Australia Free Trade Agreement on behalf of their own government in Canberra, Australia on June 17. Australian Prime Minister Tony Abbott attended the signing ceremony.
The China-Australia FTA negotiations started in April, 2005 and have lasted for one decade. With concerted efforts, on his state visit to Australia in November 2014, President Xi Jinping and Australian Prime Minister Tony Abbott jointly confirmed and announced the substantive completion of the negotiations. The signing of FTA has laid a foundation for both countries to fulfill their domestic approval procedures and make the FTA come effects as soon as possible.
The China-Australia FTA covers over ten areas including goods, service and investment, realizing the goal of FTA with "comprehensive, high-quality and balanced interest", and it's one of FTAs of the highest level that China has ever signed with other countries concerning trade and investment liberalization so far.
On trade in goods, both sides have products of 85.4% of trade value to enjoy "zero tariff" immediately after the FTA comes into effect. After the transitional period, Australia will have products of 100% tax items and100% trade value that will enjoy "zero tariff", and China will have products of 96.8% tax items and 97% trade value that will enjoy "zero tariff", greatly exceeding the average 90% in FTA concerning the tax reduction level.
On trade in service, the Australian side promised to open its service sector to China with a mode of "negative list" as soon as the FTA comes into effect, being the first country in the world to make service trade commitments with negative list to China. China will open its service sector to Australia by positive list. In addition, the Australian side also made specific arrangements for China regarding working mechanism in holidays.
In investment area, the two sides will give the most-favored nation treatment to each other immediately after the FTA comes into effect, and the Australian side will lower the approval threshold and make it easier for the Chinese enterprises to invest in Australia.
In addition, the FTA also made regulations to enhance bilateral communication and cooperation in more than 10 areas of the "21th century trade and economic topics", including E-commerce, government procurement, intellectual property rights and competition areas.
Australia is a main developed economy with large economic volume and is a main exporter of global farm produce, energy and mineral products with mature market economy system and well matched legal system and government management modes. The signing of China-Australia FTA is an important and solid step for China to accelerate the high-standard FTA network process facing the globe and is conducive to China's comprehensively deepening reform and construction of open economic system under the "new normal". The China-Australia FTA is an important one that China signed with an important economy in Asia-Pacific region following the China-South Korea FTA, and is of significance to promote the regional comprehensive economic partnership (RCEP) and Asia-Pacific Free Trade Zone (FTAAP), to accelerate Asia-Pacific regional economic integration, and to realize regional common development and prosperity.
The signing of China-Australia FTA is an important milestone for China-Australia trade and economic cooperation and development. China and Australia have been important trade and investment partners to each other for long, the bilateral trade and economic relations have grown rapidly and trade and investment continued to expand. In 2014, China-Australia bilateral trade amounted to US$136.9 billion, 16 times that in 2000. By the end of 2014, China's total investment in Australia registered US$74.9 billion. At present, Australia is China's second largest destination of investment overseas following Hong Kong. China is Australia's largest trading partner, largest source of imports and largest export destination. The China-Australia FTA will further promote the flow of capital, resource and personnel, enhance the sustainable and deep development of complementary advantages, and benefit both industrial circle and consumers as well as people of both sides.