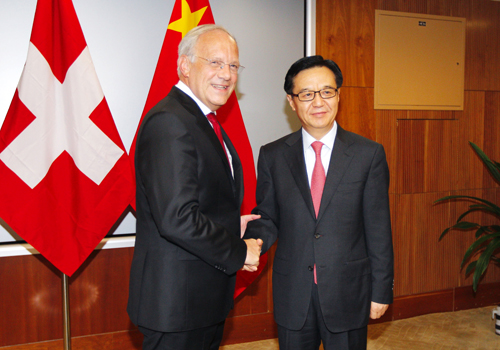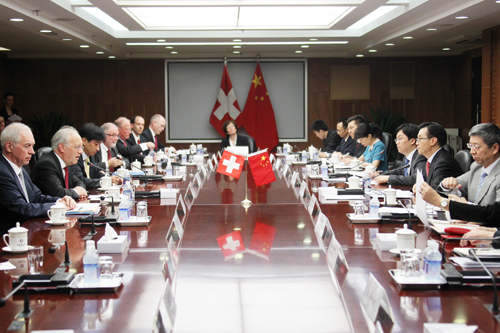 Commerce Minister Gao Hucheng held talks with Johann Schneider-Ammann, Swiss Federal Councilor and head of the Swiss Federal Department of Economic Affairs on July 6 and exchanged views on the signing of China and Switzerland FTA as well as other economic issues of common concern. They hope to make the signing of FTA a new start and enthusiastically pushed up business relations between China and Switzerland in every aspect.
Minister Gao said that the China - Switzerland cooperation in trade and investment had been effective and fruitful and the bilateral economic relations had made remarkable progress in recent years. Premier Li Keqiang's successful visit to Switzerland last May has outlined a direction and key areas for future cooperation between the two countries. The China – Switzerland Free Trade Agreement is of comprehensive, high opening level and mutual benefits. The signing of the Free Trade Agreement today is, a milestone in the China-Switzerland business relations.
Minister Gao said that China and Switzerland economy is highly complementary and the economic cooperation between the two sides was based on a solid foundation, which enjoyed great potential and a broad future. We both should follow their own domestic procedures and make sure that it goes into effect as soon as possible and try to put the bilateral economic relations at a new and high level.
Schneider-Ammann said that Switzerland attached great importance to its economic relations with China. China has become Switzerland's most important trading partner in Asia. The China-Swiss FTA is a full and comprehensive pact with various contents and solid foundation, which contributes to the sustainable development of bilateral business relations and brings about a deep and profound influence on both countries' economic development. Switzerland government will play a positive role in gaining the federal council's approval of this FTA.