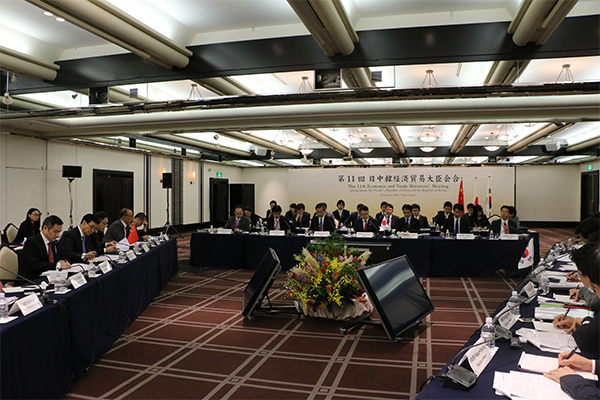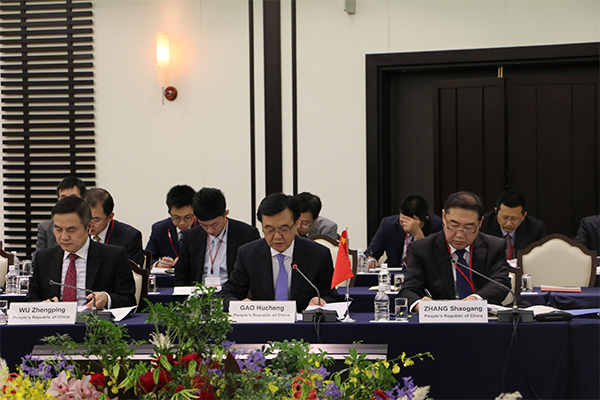 The 11th China, ROK and Japan Economic and Trade Ministers' Meeting was held in Toyko, Japan on October 29, 2016. The meeting was co-chaired by Gao Hucheng, Chinese Minister of Commerce, Hiroshige Seko, Japan's Minister of Economy, Trade and Industry and Joo Hyung Hwan, South Korean Minister of Trade, Industry and Energy. This meeting aims to gather more fruits for the 7th China-Japan-ROK Leaders' Summit. The three ministers reached a series of consensus on implementing the trade and economic achievements of the G20 Summit, conducting trilateral pragmatic cooperation in new areas and new initiatives and promoting regional and multilateral trade.
Gao Hucheng said the present world economic recovery is still weak, as three major economies in East Asia, China, Japan and ROK have major influence over regional and global economic growth. The three parties should carry out the leaders' consensus on trade and economic areas, give industrial complementary into full play, improve the level of trade and investment and enhance self-development and contribute to East Asian and even the Asian economic growth through deep cooperation.
The three parties expressed that further efforts will be made to carry out the achievements of the G20 Hangzhou Summit, stress the importance of the G20 Strategy for Global Trade Growth and the G20 Guiding Principles for Global Investment Policymaking, and the G20 trade and investment work group's role in strengthening the G20 trade and investment cooperation.
Based on the future economic development of the three countries, China proposed to conduct the third party international capacity cooperation and jointly develop the 4th market under the framework of "Belt and Road" initiative and "Eurasian initiative"; joint efforts will be made to promote sub-regional cooperation among the three countries and deepen mechanism construction such as the Pan-Yellow Sea Economic and Technological Conference and support more pragmatic cooperation among local governments of the three parties. China's initiative was positively responded by both Japan and ROK.
The tri-party approved a joint research report of "strengthening the connectivity of supply chains of the three countries". China initiated to extend the range to ASEAN countries under the framework of "10+3", which won positive response from Japan and ROK.
The three parties reiterated to accelerate the China-Japan-ROK FTA and RCEP negotiations, strengthen the unique value of FTA, achieve high-quality and meaningful results in relevant areas of RCEP negotiations and strive for a modern, comprehensive, high-level and mutually beneficial free trade agreement.
The three parties agreed to jointly create an open world economy, fight against trade protectionism, further strengthen multilateral trade system, enhance global trade and investment, strengthen cooperation under the framework of APEC and ASEM and positively promote regional economic integration.
After the meeting, the three trade ministers released a Joint Statement on the 11th Trilateral Economic and Trade Ministers' Meeting among the Republic of Korea, Japan and People's Republic of China, and held an interview with reporters.